Over the month, the YFI token has risen in price by 32,000% and overtook Bitcoin in price
Over the month, the YFI token has risen in price by 32,000% and overtook Bitcoin in price
The cryptocurrency first appeared on the market on July 18 and at that time was worth $35. Today the coin rate rose to $12 800

August 18, the DeFi platform token yEarn Finance (YFI) surpassed the main cryptocurrency Bitcoin in value. The altcoin price on the Binance exchange rose to $12,800. Then it fell to the current value of $11,000.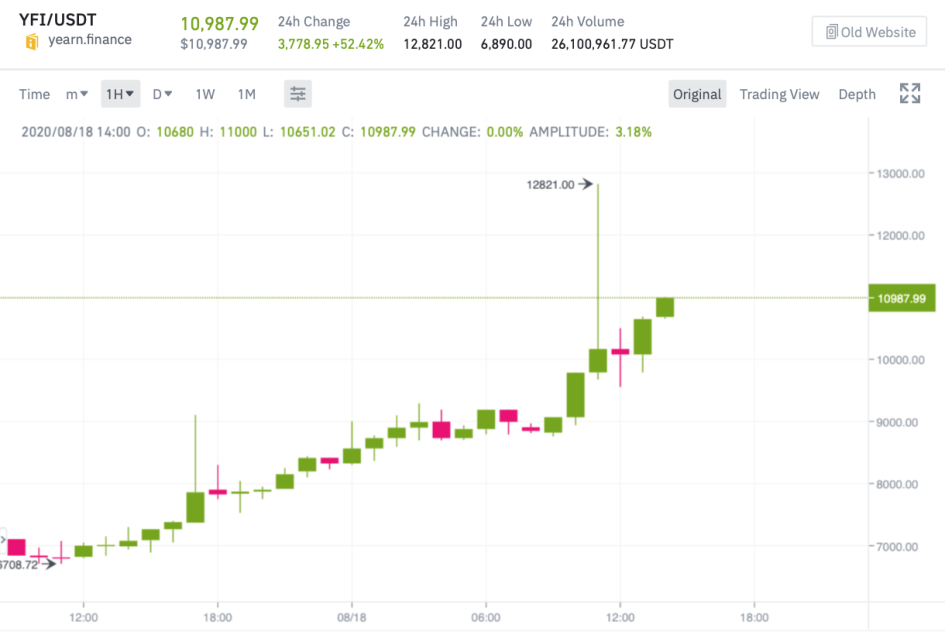 YFI Token Chart on Binance.
Source
The YFI token rate has shown significant growth over the past month. The coin was released on July 18th. It was added to the Uniswap exchange that day and cost about $35. To date, the cryptocurrency has risen in price by about 32,000%.
One of the drivers of the growth of the YFI coin rate was its addition to large trading platforms. For example, now an asset can be bought on the Binance, Poloniex and others. Limited emission was also a significant factor. There are 30 thousand YFI tokens in total.
Despite the fact that the token has added 32,000% to the value in a month, it is "useless and has no value." This was stated by the YFI developer himself when he released the cryptocurrency, having voiced a corresponding warning during the release.