The Hotdog token went up in price from $5 to $6200 in a day and fell to 0 in 5 minutes
The Hotdog token went up in price from $5 to $6200 in a day and fell to 0 in 5 minutes
A new project in the field of decentralized finance (DeFi) appeared on September 2 and increased in price by 120,000% on the first day. On the second - the cryptocurrency has practically depreciated

The sphere of decentralized finance (DeFi) has become famous for the fact that related tokens rise in price by hundreds and thousands of percent in a short period of time. But today there was an unprecedented incident. The Hotdog cryptocurrency, released on September 2, increased in price from $5 to $6200 per day, that is, by more than 120,000%.
Today the situation has changed. After breaking the $6,000 mark, the Hotdog token price began to fall rapidly and in about 5 minutes fell to $0.015. Such movement of quotations is usually typical for the "Pump & Dump" scheme, when attackers artificially "accelerate" the rate of a low-liquid asset. And then they sell it to users who are ready to buy an unknown, recently appeared coin due to a sense of lost profits.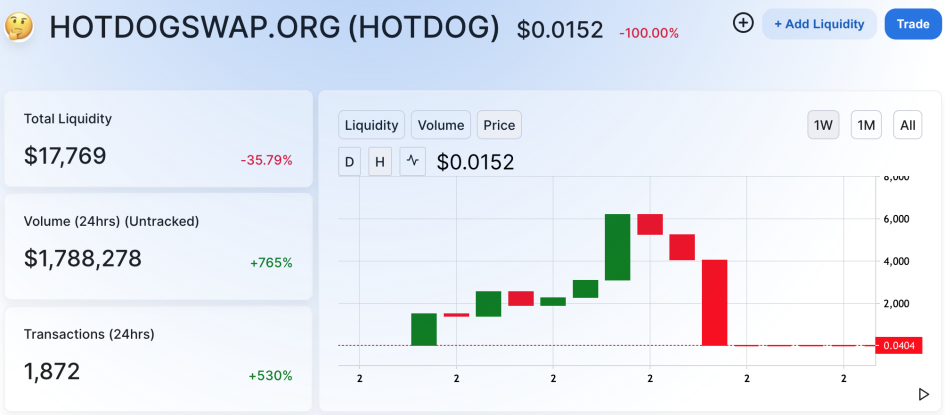 Hotdog Token Chart (Photo: Uniswap.org)
Over the past day, a similar story happened with the Pizza token. It was also released yesterday and initially cost about $1. During the day, the price of the altcoin rose to $1100, but immediately after that it began to plummet. Now the coin is trading at a rate cheaper than the dollar.
The most famous DeFi project is the yEarn Finance (YFI) platform token. The coin was released on July 18 and cost $32 on the first day. By the current moment the price has risen by almost 100,000%, to $31,000, and at the moment it reached $38,000. The developers of the asset themselves called it "absolutely useless."